"No, no, no…"
References a silver serving tray laden with sweets.
"The cheesecake goes over there…right next to the chocolate covered strawberries and the melon balls—Oh. Hello."
Smiles from ear to ear.
"So glad you could make it. Please, please...come in. The champagne's over there and the hors d'oeuvres are circulating."
Leans in.
"Make sure you try the spanakopita. It's to die for?"
Blink. Blink, blink.
"You've never had spanakopita?!"
Blink.
"I'm serving it in honor of my publisher?
Muse
ItUp Publishing? As in the
Greek
goddesses of art?!"
A tray of spanakopita goes whizzing by.
"Here. Try one."
Snags a spinach filled Greek pastry from the fast-moving serving dish then taps fingertips together awaiting the inevitable—
"Seeeeeee…"
Waggles eyebrows.
"I told you they were good. Listen, feel free to stay as long as you like and eat to your heart's content. There's plenty of food and lots to see. Over there is my video corner. Watch all 30 of my
Courting the Flame
Random Quote Teasers at
Courting The Flame Book Channel on YouTube .
Or watch just today's special "release party" teaser.
Like what you see, visit
Still not sold? Try this corner.
It's my makeshift gallery containing artwork, music,
and photos that have special meaning to Courting the Flame.
I'll be waiting for you by the cheesecake when you're done.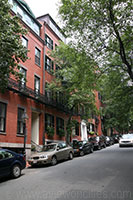 I soooooo love that corner!
Oh, and I almost forgot. I'm launching my Courting the Flame Facebook Fan Page at
in conjunction with my book release.
It's going to become the home base for all things "Courting the Flame": updates, specials, contests, fan input, you name it. You'll definitely want to stop by and give it a "like".
"Oh, dear. What's that?"
Sniffs air.
"Please don't tell me someone's burned the galaktoboureko?!"
Palm to forehead.
"Please…mingle amongst yourselves. Ohhhh…and thanks again for stopping by. I am truly honored. This is such an exciting day for me. I'm so glad you were a part of it."